Description
M-TECH Electric Trolley
The premium M-TECH blends unrivalled performance with luxury finishes and striking design to produce the ultimate in golf club transportation.
It's all in the details
Developed to a high-end specification, exclusive luxury finishes include polished chrome, hand-stitched genuine leather handle grips and eye-catching M-TECH all-terrain tyres.
Excellence under the hood
A super-lightweight 36+ M-TECH Lithium battery, high power 28V electronics, and whisper-quiet 230W motor - providing Downhill Control (DHC) and an electronic parking brake - lead to unrivalled performance, superior efficiency and class-leading reliability.
M-TECH owners are also rewarded with a comprehensive 3-year trolley and 5-year battery warranty for complete peace of mind.
Fully-featured
The M-TECH's impressive list of standout features include an anti-glare, full colour LCD screen, three distance measurements, Adjustable Distance Control, USB charging port, Clock & Round timer, CartLock security pin code, and full handle height adjustment.
As a member of the award-winning M-Series family, M-TECH utilises the world's simplest compact folding system and revolutionary SlimFold design to offer an 11% smaller folded footprint - allowing it to fit into the smallest car boots for stress-free transportation.
IDEAL FOR: Golfers looking for a luxury trolley offering striking design and unrivalled performance
Features
Luxury finishes, Unrivalled performance
Hand-stitched leather handle grips
Polished chrome detailing
High Capacity 36+ M-TECH Lithium battery
Automatic Downhill Control
Electronic parking brake
All terrain M-TECH tyres
World's simplest compact folding system
Optimal SlimFold footprint - 11% smaller*
Next generation High Power 28V electronics
Anti-glare, full colour LCD screen
Distance measurement (Drive, Round, Life)
Adjustable Distance Control (up to 60 yards)
USB charging port
CartLock security pin code
Clock & Round timer
Simple, fully-adjustable handle height
3-year trolley warranty**
5-year Lithium battery warranty**
EASILOCK™ compatible
*compared to nearest competitor | **terms & conditions apply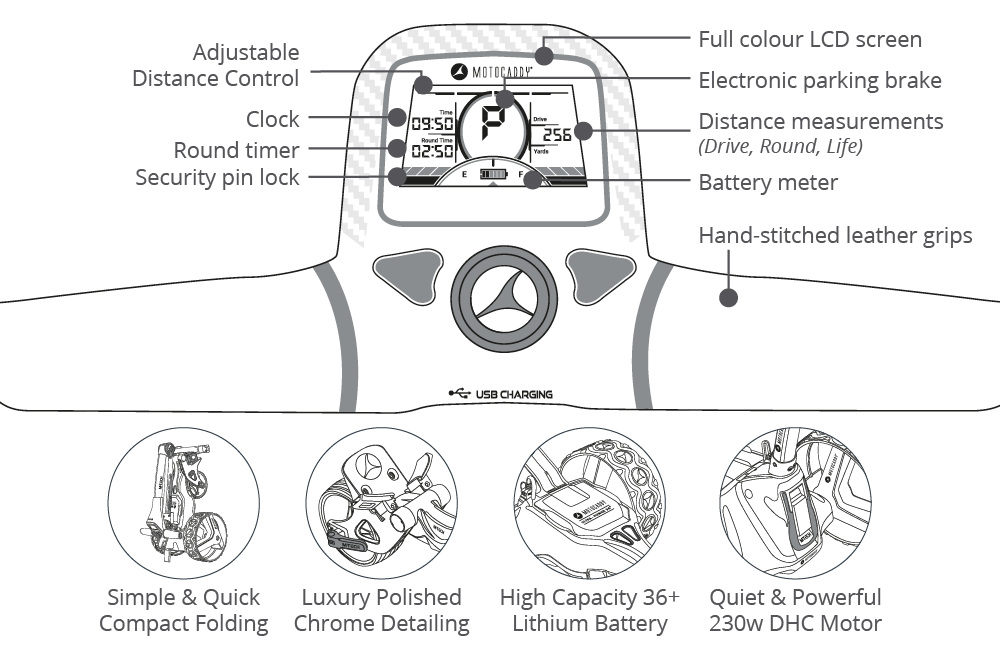 Specifications
| | |
| --- | --- |
| WEIGHT: | 11.40kg |
| DIMENSIONS: | 650 (L) x 470 (W) x 410 (H) |
| MOTOR: | 230W DHC |
| VOLTAGE: | 28V High Power |
| MATERIAL: | Aluminium/Polished Chrome |
| WARRANTY LENGTH: | 36 months |
| COLOUR OPTIONS: | Available in Black |
NB : M-TECH folded dimensions are shown with wheels inverted.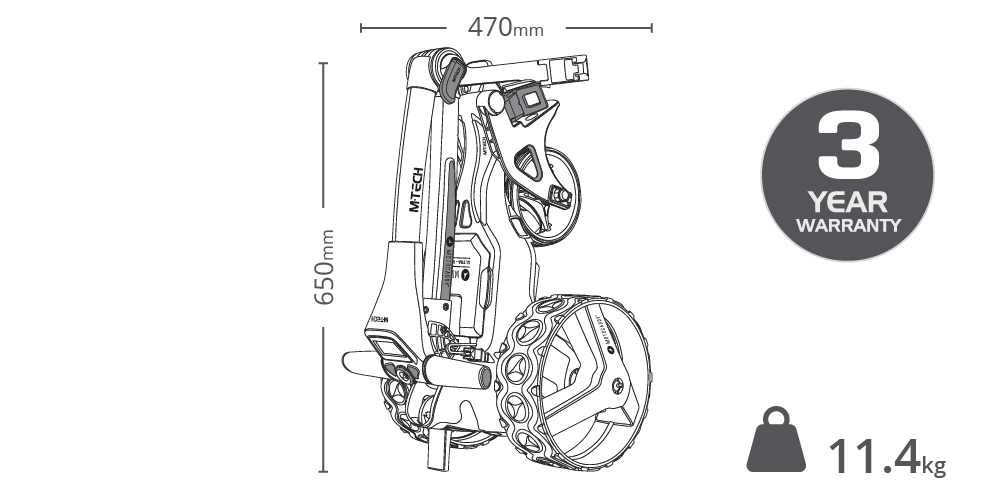 Media Testimonials

For some golfers it's simply all about getting their hands on the best that money can buy. It's for consumers like these that Motocaddy has developed the M-TECH – the ultimate in golf club transportation.


It's clear from the moment the M-TECH leaves the box that it is a premium product and it's very stylish out on the course. If you want something that stands out on the course, has premium detailing and performs to a high standard, put the Motocaddy M-TECH on your list of trolleys to try.